The History of the De Soto Baptist Church
1946: The Beginning of the De Soto Baptist Church
Following the end of World War II, a group of concerned citizens felt the need to form a new church, particularly concerned about families living in the Sunflower Army Ammunition housing.
1947: Twenty-one charter members with Pastor Chris Evans begin
meeting
From meeting in city hall to renovating a tavern, the church started regular services.
1957: Church is officially incorporated on Sept. 30,
1957 Moving into a former funeral home, the church continued to grow. Borrowing $9500, the building was expanded and renovated, being officially incorporated in 1957. Several ministers were credited for bringing about significant growth and developing an effective youth group.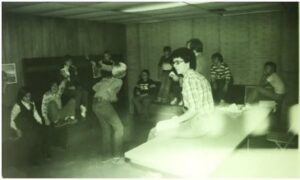 1963: Land purchased for a church site
Under the leadership of Dr. Bob Hargrove (1962-1966) continued growth led to the purchase of four acres of land. More lots were added, and $15,000 was borrowed for the purpose of building a new church.
1965: Groundbreaking held on June 13, 1965
Much of the work was done by church members and volunteer labor. (Some of those young workers are now deacons and leaders in the present church.)
1966: First Service is held on August 14, 1966
The first service was held in the basement of the new building. A Search Committee was formed to find a new pastor.
1967: Rev. Richard Copeland assumed pastoral duties
Along with the dedicated leadership of Rev. Copeland has been his devoted "helpmate," Mary Etta Copeland, who has served faithfully and provided outstanding leadership in the music program, ABW activities, youth, and multiple outreach drives (Bethel, missions, local needs).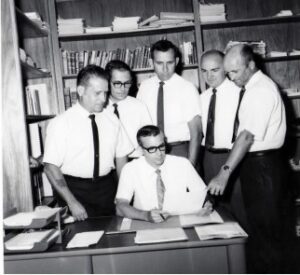 1968: September 28, first baptism was held in De Soto
Nov. 3, 1968: dedication of the church building.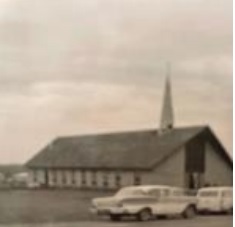 1970 – 1980s: Significant growth occurred during these years.
Rev. Copeland and the church were recognized for being the fastest
growing American Baptist church in the region. Youth Programs
included a large Youth Choir; participation in Inter-faith softball league;
ski trip to Colorado; youth performance trips to Bella Vista, Arkansas.
1990-2010: Church experienced continuing strong programs for AB
Girls, VBS, adult choir, and a large teen Sunday School class. Our ABW
provided strong leadership in the Central Region and led many local
drives to help in local, regional, national and international needs.
2007 – Present:
There has been a decline of youth activities including the teen Sunday School, children's choir, and Sunday
School programs in general. Presently, there is no teen class and small numbers in children's classes.
VBS remains a very strong program, drawing as many as 80-90 children & teens (ages 4-18). Though the
Adult Choir is smaller than in previous years, it retains its high quality; a high point would be the choir
performance in 2017 led by nationally known arranger and composer Mark Hayes.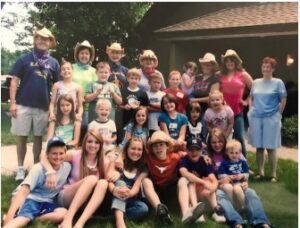 2012 – Present
Expansion and Renovation of Church Building and Grounds
Thanks to generous donations from present and former/distant church members, our church has made many significant improvements and additions:
2012 – Completion of the Copeland Center
Pastor's office, church office/classroom, handicap-accessible restrooms, and gathering center.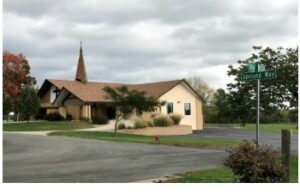 2018: Kitchen Remodel, Shelter House, Playground
2022-2023: Completion of Prayer Path
2022: Resignation of Rev. Richard Copeland.
After fifty-five years of dedicated service, Rev. Copeland submitted his resignation as of August 28, 2022.